Information in english
Leading provider of social services in Vienna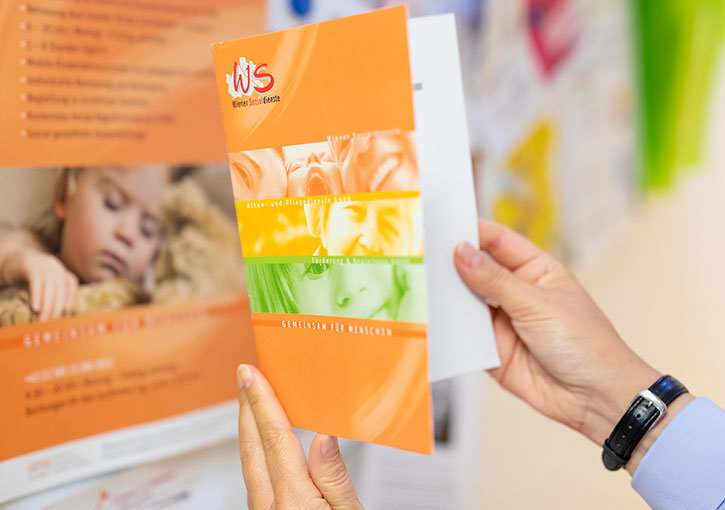 WWiener Sozialdienste (Vienna Social Services) has been providing manifold social services for people in Vienna for more than 70 years, thus contributing to the high quality of life in our city. The diverse range of services includes care, support, consulting and therapy facilities for elderly, ill, handicapped, socially challenged and socially vulnerable people and their families.
The association and its two subsidiaries with more than 1,700 employees work in collaboration with the city of Vienna to provide the following social services:
Social services for residents of the city:
Childcare at home
Contact visiting service
The services offered by the Wiener Sozialdienste include childcare at home as support for parents and single parents and contact home visits as an information hub for senior citizens. International and national projects are part of the contact visiting service and serve to promote the development and implementation of innovative projects taking health and social aspects into consideration. The team handwerK service provides measures for professional integration.
Wiener Services for the elderly and general care
(Alten- und Pflegedienste)
Qualified care and support for people who are dependent on assistance and care
Mobile services

Home help
Home nursing care

Contact visiting service
Assisted residential communities for senior citizens
Assisted living – Kabelwerk
Anton Benya geriatric day centre
Even everyday things can become a burden with advancing age or due to illness. Our mobile services make it possible for many people to lead an independent life at home. In addition, we support our clients in assisted residential communities for senior citizens, in our Anton Benya geriatric day centre and in the assisted living – Kabelwerk project.
(Förderung & Begleitung)
Individual support and treatment, integration and furtherance of handicapped children, youths and adults and/or those with special needs:
Basic special needs classes
Arts and Crafts – structured daily routine
Institute for couple and family therapy
Child therapy
Mobile occupational therapy
Mobile early development promotion
Living – partially and fully assisted
Centres for promoting development
We offer a range of individual social services for people of all age groups in dialogue with those concerned.